A solar energy-centered microgrid start-up — one that develops what it calls micro power systems — is bringing electrification for the first time to towns and villages in Myanmar.
Gaining the support of foreign development organizations such as Norway's Norfund, Yoma Micro Power has installed 51 off-grid micro power plants in rural Myanmar towns and villages and plans to deliver another 200 by the end of this year. They combine solar PV, battery energy storage and diesel generators for back-up power, all governed by intelligent microgrid control and management software.
It's estimated that more than 60% of Myanmar's population lacks access to modern electricity services. Some 4 million reportedly lack any access to electricity, according to international development agency statistics.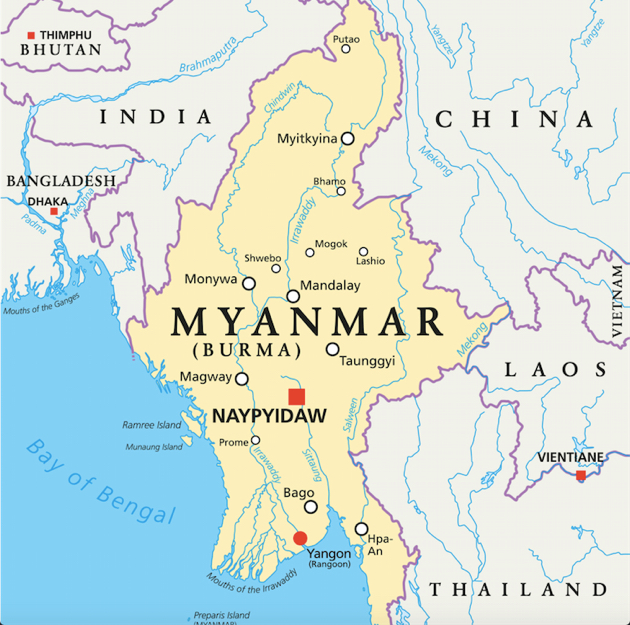 Achieving universal electrification
Myanmar's government has set a goal of universal electrification by 2030. The falling costs of solar and microgrid systems, along with lobbying on the part of Yoma Micro Power and other distributed energy proponents, is prompting government officials to devote resources to supporting a decentralized, clean energy model of electrification as opposed to the traditional model of large, centralized power plants and long-distance transmission and distribution networks.
It takes much less time and cost to deploy a community microgrid than to extend the power grid to rural towns and villages, Yoma Micro Power CEO Alakesh Chetia explained.
Hydroelectric power provides 65% of Myanmar's electricity generation capacity, according to official statistics. Seeing a large hydroelectric power project through to fruition can take anywhere from four to five years, according to Chetia. Then there's the loss of ecosystems, livelihoods and displacement of residents when a large dam is built.
Deploying a solar microgrid takes just four to five months from start to finish and requires less land, according to Chetia.
Community microgrids co-locate energy generation and consumption, which adds to power system efficiency gains and lowers costs.
The decentralized model comes with other advantages, Chetia says. That includes enhanced energy reliability, resilience and security and lower greenhouse gas emissions.
Stimulating energy use
Myanmar villagers are used to living with little or no access to electricity. So fostering greater demand poses a challenge for Yoma Micro Power and its peers. The company looks to businesses, such as telecommunications providers, to secure a sufficient level of electricity demand to serve as an anchor for its microgrid systems. That enables Yoma to lower the cost of electricity delivered via community microgrids.
Average per capita electricity consumption in Myanmar is 217 kWh, the amount the average Norwegian uses in just four days, Chetia sad. "Yoma Micro Power is organized and our vision is to serve multiple, different segments," Chetia said. "One we call rural electrification. Another one that we are looking at is commercial and industrial, and in the future also residential customers in urban areas."
For rural electrification the company builds micro power plants that may range anywhere from 15 kW — the size for a completed rural community pilot project —  to an an anticipated 500 kW of generation capacity, Chetia said. "But our intention is to build thousands of them…where the power is needed."
Myanmar saw a rapid buildup of wireless telecommunications infrastructure after the market opened up in 2013. Chetia and Yoma Micro Power see the same potential when it comes to building a decentralized, sustainable energy system in Myanmar.
In addition to its 2019 goal of rolling out 200 microgrids, Yoma Micro Power has yet more ambitious, longer term goals. It's aiming to deploy some 2,000 community solar microgrids across Myanmar by 2022. Chetia believes Myanmar can leapfrog a generation of centralized power and move directly to a low-carbon decentralized system.
Track news about rural electrification. Subscribe to the free Microgrid Knowledge newsletter.